Gadget Review: Bosch MUM5 Home Professional Kitchen Machine MUM57830
I was asked to do a review of this machine and my sis and I have been trying this machine for over a month and we have been using it quite a bit and keeping our current European brand mixer resting on the counter top.
The machine arriving at our home, it's net weight is 6.92kg and the dimension of the machine inside is 282 x 280 x 271 mm.
The unboxing of the kitchen gadget. The machine when you buy it in Singapore comes with quite a few accessories included as standard like the Citrus Press, Continuous Shredder with 3 disks (5 functions) and a 1.25 litre Plastic Mixer.
I know someone told me that previous model feels a bit flimsy and plastic. This model, the MUM57830 is a 900 W motor machine with side panels that is made from real metal. It comes with a 3.9 litre stainless steel bowl as well. Feels rather solid, but not it's not as heavy as our current machine of another brand. We found it quite sturdy and even at high speeds, it does not vibrate or shake. It has 4 suction feet at the bottom so it stays grounded quite well.
The machine is quite a beauty. It's brushed aluminium design in Mystic Black. It retains the same beautiful contour design that won the "Red Dot Best of the Best Award 2011".
When we saw the real thing after we opened the box, it's something that you will fall in love with. My wife and sis was saying why no other colours? We realised it fits in nicely with most colour themes for kitchens.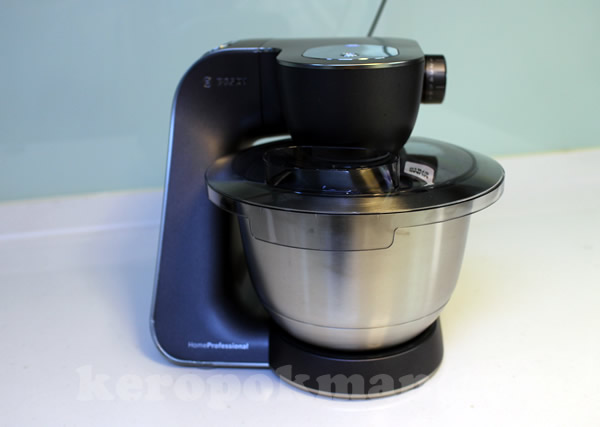 If you are looking for a big capacity machine, this is not it. The MUM5 is mid capacity with a 3.9 litre bowl. If you are looking for bigger ones, try the MUM8. MUM8 would be the size of my mum's mixer.
Since having this machine, we have not been using our standalone blender that we have. It's a multiple in one machine that we have left on the counter top, so it beats taking out other machines that we have.
The machine has a rather powerful 900 W motor. There's 7 speeds and also burst switch.
One thing we like is how the beating whisk, stirring whisk and kneading hook gets to be stored in a bag and the bag fits nicely into the mixing bowl. We compared it with out current machine that doesn't have a bag, so we have been using other bags to store it.
The machine comes with beating whisk as you can see above. It's fully metal and it's height adjustable too. You can adjust it to nearly touch the bottom if you are using small quantity of ingredients. We were also quite impressed with the flexi stirring whisk with silicon edges. The silicon edges will swipe the sides of the mixing bowl! So when you are mixing, you don't need to stop the machine every now and then to swipe the ingredients down. There's also the kneading hook.
At the bottom of the same bag, there's storage for the 3 disk that's used for the continuous shredder.
[youtube https://www.youtube.com/watch?v=H9QjJVahehQ]
We were really playing around making macarons, cakes etc.
This video will show you what we found very interesting the first time we saw it last year. The whisk moves in such a way that it will almost whisk all around the mixing bowl. We know different machines have different mechanism, but this is really the first we have seen that goes around like this.
You don't need to scrap down the sides too. That said, for certain things, you still need to, just the upper top bit. The noise in the video is because we put it to the maximum it can run. It is much quieter for settings below the max of 7.
A little transformer at work. You can push the top part down and you can fix the blender onto it.
The blender is fine by itself, but I was hoping it was a glass version, just my personal preference. A plastic version does not feel as sturdy, but it can blend ice, I tried it.
Pushing it back to the original position, you can remove the top and clip on the citrus press.
It has quite a high capacity container as well.
In the same position, you can also clip on continuous shredder. Things that are shredded gets directly into the bowl. This is useful as since young, we have been helping mum prepare dishes.
If your family is one of those that requires home made shallots that's cooked from scratch, you will be glad for this machine. You just need to skin the shallots and then use this machine to slice it thinly for you. A life and time saver!
So simple, yet so useful, putting a small plastic below the disks that automatically sweeps everything into the bowl! No need to stop the machine to adjust.
This is also useful for making both Western and Chinese carrot cake. Using the machine to shred the carrot or turnips is a breeze. If you have a dishwasher, just chuck it into the dishwasher and let it clean itself. We have been throwing everything into the dishwasher after baking.
One thing we like is this automatic cable rewind! After using, you can store the cord inside the machine by just pulling it a little and it all goes back in. No messy long wires!
If you want a machine that can do a few things because you are quite short of table top space, this is a nice machine. It has a mid size mixing bowl, a citrus press, a blender, and a continuous shredder.
In summary:
Pros:
– Powerful (900 W) for a mid size machine.
– The all-in-one design. We used the mixer and blender a lot, so it's easy to have only 1 machine on the kitchen table.
– Sturdy and solid, with 4 suction feet at the bottom to hold your machine in place.
– Stainless steel bowl that is quite solid.
– Beating Whisk that rotates all around. We really get very nice egg whites very quickly.
– Stirring Whisk that has a silicon edge, we found that it scrapes the sides so nicely, you don't need to do it manually while mixing or folding.
– Bowl is big enough to mix ingredients for 2 big chiffon cakes.
– Accessories bag. I like they have thought about this little thing and we don't need to find a container at home to store things.
– The rewind cable! No messy wires, after usage, you can pull it, release and wires gets hidden inside the machine.
Cons:
– can't whisk 1 egg's worth of egg white. (we know most machines can't do this too, except a hand held one)
– Update: we realise the whisk has a knob that you can push and lower it, so 1 egg's worth of egg white is possible.
– finding a place to store the bulky continuous shredder. It's shape is hard to keep.
– only 1 colour, my sis was hoping there will be a red option.
– blender is plastic.
The RRP is S$839. Going into even the  big chain stores, the price is usually $100 or more lower than the RRP, which is about the same price to machines of other brands. During the recent National Day, I noticed Best Denki has it for $6xx! Very good deal. Look out for deals if you decide to go for this machine.
Update:
From 18th October 2013 to 5th Jan 2013, Bosch is having the YearEnd Fiesta promotion whereby a range of its kitchen and floor care appliances are on sale. The MUM5PRO will be at S$749 (usual price $839).
If you like colours for your machines, the other kitchen machines in the MUM5 series (not the PRO) comes in special coloured limited editions at different stores in November 2013.
– Turquoise at Best Denki
– Yellow Passion at Courts
– Deep red & miracle blue at Tangs